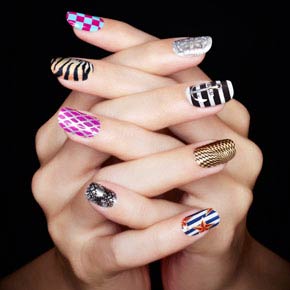 [dropcap]E[/dropcap]veryone loves a good manicure and pedicure. They just make you feel good, and there is nothing better than nicely manicured nails. If you love showing off your hands, and feet, you have got to try Jazmin Spa's gel nails in Atlanta. Gel nails last for up to two weeks, and look as fresh, as the day you got your manicure, or full set.
Gel nails look more natural than acrylic, and can be worn with, or without polish. The application is easy, odor free, and not much nail filing is required. Gel can be applied over the top of an artificial tail tip, or directly on to the natural nail. After the gel is applied, the nail is placed under a UV light, or placed in water with the no light system. This will harden, or cure the gel. If you are trying to grow your own nails, this is a wonderful method to strengthen, and protect them. In fact, the long term goal with gel nails is to eventually have your own nails under the gel, which would eliminate the need for tips. The gel becomes an extremely strong base coat that goes over the top of your natural nail. Once your nails have grown out, all that is required is maintenance once or twice a month. One of the best things about gel nails is that they do not harm your natural nail.
Atlanta gel nails are a specialty at the Jazmin spa. Fully licensed nail technicians are trained to apply gel, which can be difficult for someone who has not been properly educated. Yes the application is easy, but only by someone who is experienced.
People who have had gel nails in Atlanta rave about them. They are thin and crystal clear, they look and feel natural, and unlike acrylic, there is no lifting, yellowing, or discoloration. Men especially like gel, as it looks natural, and is easy to take care of.
While you are at Jazmin getting your full set of gel nails, you might as well treat yourself to a pedicure. People notice feet, especially during the warmer months, and if you have never had a pedicure before you will love it. After your feet are soaked and scrubbed in a refreshing peppermint whirlpool bath, your nail technician will cut your cuticles, shape your nails, and get rid of nasty calluses. You will also get a foot massage, and have your nails polished with the color of your choice. Go for the Jazmin Signature Spa Pedicure, which also includes a mask, and an intensive foot, and lower leg massage.
Jazmin is the go to spa for all of your needs. They do not just do nails. Several types of massage, hair removal, body treatments, facials, and special spa packages are available.
Grab the girls, or your partner, and head to Jazmin for the best gel nails in Atlanta, and remember if you pay for six of the same treatments in advance, you will get the seventh absolutely free.