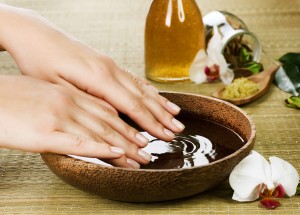 [dropcap]H[/dropcap]ands and feet are considered to be an integral part of one's personality. That's why; it is extremely important that you should take good care of them. Nails are one such aspect of our hands that could help in making them look good or bad. Most of the people have nail biting habits, which could ruin the overall appearance of their hand. On the other hand, it is extremely unhealthy too.
Women are very cautious and particular about their nails. They want to ensure that they are taking every important measure in order to keep their hands and feet beautiful. That's why; these days a lot of nail salons have been opened in different parts of the country that are providing the best services to their customers. They also offer certain therapeutic services if you are facing some nail problems. You can just visit one of these salons and talk to their nail experts. They will guide about the best possible solution for your problem.
It is also very important to find out the best nail salons that have some credibility. If you are living in Georgia, then Jazmin Spa is one such place that could provide you the best nail salon Atlanta services. They have different options available and you can choose the one, which suits your needs. Their experts can help you in doing so. The entire hand and foot care procedure is known as manicure and pedicure, where nails are taken care of too.
The timings of these treatments vary depending upon the services you are selecting. For example, Jazmin signature manicure takes 45 minutes and it has been especially designed for dehydrated or dry skin. The entire package includes filing and shaping of the nails. Hand massage with warm lotion. Cuticle treatment, mild sea salt exfoliation, polishing and paraffin infusions treatment are also included in this type of manicure.
On the other hand, if you are choosing Jazmin signature pedicure, it is going to take around an hour because feet are more exposed and they need critical treatment. It includes a relaxing leg and foot massage along with shaping of the nails, cleaning of the cuticle and polish. Our nail salon Atlanta specializes in these types of manicure and pedicure treatment. But you should ensure that you have taken an appointment with one of the nail experts who can examine your nails properly before advising any treatment.
This is one of the major reasons behind the immense popularity of nail salon Atlanta here in Jazmin spa is because they take good care of their customers. They don't just rush into performing any treatment straightaway but they sits with you to understand the needs and demands of your body and skin within an affordable price range.